Difference between revisions of "Lindenis V536"
Line 283:
Line 283:
 
 
 

===== Wifi =====

 

===== Wifi =====

 
+
 
+
 
+
 
+
 
+
 
+
 
+
 
+
 
+
 
+
 
+
 
+
 
+
 
+
 
+
 
+
 
+
 
+
 
+
 
+
 
 
 

===== Bluetooth =====

 

===== Bluetooth =====
---
Revision as of 08:31, 7 December 2019
Key Features
Processor core
Dual-Core Cortex A7@1.2GHz
Neon acceleration, integrated FPU
Video Encoding/Decoding Performance
H.264 BP/MP/HP, H.265 Main Profile encoding
I/P/Dual P frame H.264/H.265 encoding
MJPEG/JPEG baseline encoding
Real-time multi-stream H.264/H.265 encoding capability:

- 3840x2160@30fps+720p@30fps encoding
- 3840x2160@30fps decoding

Maximum 8192x8192 resolution for JPEG encoding/decoding
CBR, VBR modes
Encoding of eight ROIs
Graphics Processing
Supports Lens distortion correction, fisheye and wide angle correction
Supports 90°、180°、270° picture rotation
Professional Image Effects
Maximum performance is 4224x3168@30fps
Adjustable 3A functions (AE, AWB and AF)
Supports 2F WDR and Local Tone mapping,supporting highlight suppression and backlight compensation
Supports bad pixel correction, Lens shading correction
Supports multi-level 3D denoising, remove motion smear and color noise
Supports color adjustment, color enhancement
Supports image dynamic contrast enhance and sharpness enhance
Supports 4 channels of scaling output from 1/8x to 1x
OSD overlaying of eight regions before encoding
Supports image mirroring and flipping
Various interfaces
Supports MIPI-CSI2\HiSPi\Sub-LVDS
Supports BT1120 input/output
Supports Line-in/Line-out
Supports Dual-channel differential MIC inputs
Supports WiFi 802.11ac / BT4.2 (option)
Software Support
Target Applications
SDV
Smart IPC
Smart Camera
Or you can use it to build:
A computer
A streaming server
Accessories Step-by-Step Guides
Power Supply
HDMI Cable
Camera module
LCD
Flash module
WiFi and Bluetooth module
Hardware Specification
Board Features
Video Out
HDMI 1.4 Type A, up to 4K@30FPS
MIPI-DSI, 4 lanes, up to 1080P
LCD interface
Video In
1 x MIPI-CSI2 - Camera interface, 4 lanes per channel
Audio
3.5mm Line in / out
1 x mic
1 x dmic
Network
10/100/1000Mbps Ethernet
WiFi with Bluetooth (optional)
Storage
MicroSD Card bootable, support SDHC and SDXC, storage up to 256GB
Expansion Ports
Board to Board connector - Flash module interface
Wi-Fi/BT Module Header - SDIO 3.0 and UART, pitch 2.0mm
2x10 pins "Power Supply" GPIO Header: vbat, aldo1, bldo1, aldo3
4 pins GPIO Header: TWI1
2x7 pins "I2S" GPIO Header
3 pins GPIO Header: PH4, PH10, GND
3 pins GPIO Header: 1xADC
4 pins GPIO Header: S-TWI
VBAT: Battery connector
Storage: Bootable MicroSD card
Video out: HDMI 1.4, 4 lanes MIPI-DSI
Video in: 1 x DVP
Audio: 3.5mm Line in / out, 1 x mic
Network: 10/100/1000Mbps Ethernet
USB: 1 x Micro USB, 2 x USB 2.0
Board Information
Board Dimensions: 130mm x 85mm
Input Power: 5V@2A micro USB connector, 3.7V Li-Ion battery connector
Datasheet
SDK
Overview
Features
Linux kernel 4.9 (official version)
U-Boot 2014.07
ARM GCC based cross toolchain
Integrated build system
Main Components
Layout

├── build
├── config
├── Config.in
├── dl
├── docs
├── lichee
├── logs
├── Makefile
├── out
├── package
├── prebuilt
├── rules.mk
├── scripts
├── softwinner
├── target
├── toolchain
└── tools

Download and Build
System requirements
Listed below are the recommended requirements for downloading and building the SDK:
CPU: x86_64 or better family processor
Memory: 8GB or higher
Disk: 10GB free hard disk space
OS: Ubuntu 14.04 (tested) or higher
Network: internet connection
Linux host setup
Ubuntu 14.04
HINT: later version should also work.
Install prerequisites

$ sudo dpkg --add-architecture i386
$ sudo apt-get update
$ sudo apt-get install git git-core u-boot-tools qemu qemu-user-static debootstrap lib32z1 lib32ncurses5 libc6:i386 libstdc++6:i386 gawk

dpkg --add-architecture i386: support 32bit architecture
apt-get update: retrieve new lists of packages
git git-core: manage source code
u-boot-tools: build kernel image
qemu qemu-user-static: emulator for arm on host CPU
debootstrap: for installing a Debian base system
lib32z1 lib32ncurses5 libc6:i386 libstdc++6:i386: for running 32bit tools
gawk: GNU Awk
Sudo without password

$ sudo visudo

Add this line at the end (change "tom" to your username):
tom ALL=(ALL) NOPASSWD: ALL
Ctrl-X to leave, save your changes, and you're done!
Downloading
The SDK is available on github.
We use Repo manage Git repositories. Clone Repo from android Git repositories or other mirrors and install it.
Chinese developers can install Repo follow these steps:

$ git clone http://mirrors.ustc.edu.cn/aosp/git-repo.git ~/.bin/repo
$ echo "export PATH=~/.bin/repo:$PATH" >> ~/.bashrc
$ source ~/.bashrc

Building
Setup env
For Lindenis V536 SBC:
For Lindenis V536 SOM:
Build source
If you are the first time downloaded the SDK and have not built the SDK before, run the below two commands, then exit and save the configuration at first.

$ make menuconfig


$ make kernel_menuconfig

Then make it and wait ...

$ make -j8 V=s

Build image

$ pack

Installation
OS
Overview
Lindenis Video OS is the recommended operating system for normal use on Lindenis V536 series boards. Lindenis Video OS is maintained by Lindenis Tech. Ltd.. The SDK is hosted on GitHub.
Applications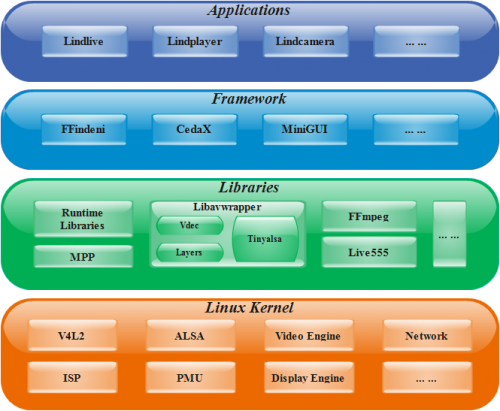 Lindlive: a low-laternce A/V streaming application powered by Lindenis.
Lindplayer: a meida player application powered Lindenis.
Lindcamera: a camera application (supported preview, snapshot and recording) powered by Lindenis.
... ...
Framewrok
FFindeni: a multimedia framework specialized for low-latency A/V processing built by Lindenis.
CedarX: a Allwinner official multimedia decoding framework.
MiniGUI: a tiny and efficiency open source GUI framework.
... ...
Libraries
Runtime Libraries: the system basic libraries like libc and so on.
Libavwrapper: a Lindenis-built library abstracted the hardware operation of the A/V processing.
FFmpeg: an open source software library for recording, converting and streaming audio and video.
Live555: an open source software library for streaming audio and video.
... ...
Linux Kernel
System Setup
Uart
Camera
Display
TouchPanel
Wifi
sys_config.fex should config as follow:

[wlan]
wlan_used           = 1
wlan_busnum         = 1
;wlan_usbnum         = 3
wlan_power          = "vcc33-wifi"
wlan_io_regulator   = "vcc-pg"
;wlan_en             = port:PG11<1><default><default><0>
wlan_regon          = port:PG11<1><default><default><0>
wlan_hostwake       = port:PL05<6><default><default><0>

make sure CONFIG_BCMDHD is configured when make kernel_menuconfig

CONFIG_BCMDHD = m

make sure PACKAGE_ap6255-firmware is configured when make menuconfig

PACKAGE_ap6255-firmware = y

Bluetooth
Ethernet
Keypad
Audio
Application Demo
The application demos powered by Lindenis.
Lindlive
Lindplayer
Lindcamera